Why choose My Family K-9's?
My Family K-9's is you're not your average family, it's made up of three families known as "guardian homes" that raise a few litters of puppies every year in their homes. Each family has their own special breed that they love and raise. Part of our family started raising furry little puppies back in the 80's and since then it has been a joy and passion that we all have. Our family recently moved to Troy Missouri in 2014 and feel like the laid-back atmosphere is perfect for them to raise a couple litters of k-9's and offer k-9 shipping. Since our families all live close by, we decided to use one website so we can focus on our fur babies and not on technology. Our family's favorite thing to do is spreading happiness in the form of paw prints and puppy kisses because families are just better with four paws and a wagging tail. Since the '80s, each generation of our family has grown up with dogs and puppies which has taught us many things such as patience, love, loyalty, forgiveness, laughter, hard work, and motivation. Our whole goal is to spread the love of canines from our family to yours.
We believe in health testing our parent dogs with DNA test and OFA certifications. We also strongly believe in vaccinating and deworming our k-9's as well as feeding them high-quality dry puppy food. Our k-9's are raised with Puppy Culture, so they go home happy, healthy and have great cognitive skills. The puppy food we feed is American Natural Premium which is a brand based in Wisconsin and is made in the USA (http://americannaturalpremium.com/). We also suggest new owners get their k-9's spayed or neutered at the appropriate age to improve the health of their k-9. To make sure our new k-9 families have everything they need we send our babies home with a sample of puppy food, vaccination records, toys, treats, potty pads, waste bags and a food/water bowl. We have also partnered with a few companies to make sure our k-9's get the absolute best, such as Baxter and Bella online puppy school, Trupanion pet insurance, and NuVet Plus pet supplements and shampoo.
In order to activate your one-year genetic health guarantee you must put the puppy on NuVet plus or NuJoint plus for one whole year. This one a day pet vitamin boosts the puppy's immune system, helps with healthy bone growth and promotes healthy skin and hair coat. NuVet is made in the USA and is shipped directly to your home. This brand is veterinarian recommended and breeder recommended. To order you can call 800-474-7044 or go online to www.nuvet.com. The order code is 091934 which is needed to activate the guarantee. The genetic health guarantee covers genetic "life threatening" defects such as a liver shunt. In the case of something like this, you can exchange the puppy for a different one that the breeder has to offer, or you can get half the purchase price back if you decide to keep the puppy. Vet documentation must be provided to confirm there is a genetic defect. If the puppy has been euthanized the guarantee will be void.
*The deposit to hold the puppy until weaned is $300 which is non refundable.*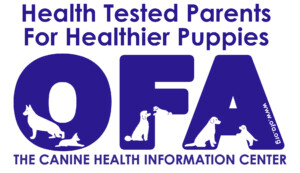 Puppies
For Sale
The Puppies are Potty-trained, Heartworm Protected, Have A Health Guarantee, Are Well Socialized, and are Ready For Forever Family